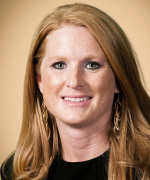 Dr. Nichole Hejtmanek is board certified in Otolaryngology-Head and Neck Surgery and joined ENT Specialties, P.C. in 2020. She received her Bachelor of Science in Biology from Nebraska Wesleyan University, Lincoln. She graduated with distinction with a Doctorate of Medicine from Des Moines University in Iowa in 2007. After medical school, she completed a general surgery internship at Baptist Health Systems in Birmingham, Alabama followed by residency training at the University of Alabama at Birmingham, where she received extensive training in ENT subspecialties.
Dr. Hejtmanek was awarded the T32 Institutional National Research Service Award in 2008. Through the program she spent two additional years researching novel anti-monoclonal antibody agents for the treatment of head and neck cancer, head and neck cancer microvascular reconstruction, robotic assisted surgery for primary oropharyngeal cancers, innovative approaches to endoscopic resection of nasal tumors, and outcomes following temporal bone resection. Dr. Hejtmanek practiced for five years following residency at MercyOne Clive ENT Care in Iowa prior to returning to Nebraska.
Throughout her undergraduate and medical education, Dr. Hejtmanek has received many academic honors including Cardinal Key National Honor Society, Tri-Beta Biology Honorary, and the Achievement of Excellence Award in Pharmacology. She served as Vice President of Otolaryngology and sat on the Delegated Credentialing Committee at MercyOne Medical Center. She has numerous publications in head and neck cancer research.
Dr. Hejtmanek holds membership in the American Academy of Otolaryngology – Head and Neck Surgery, Nebraska Medical Association and Lancaster County Medical Society.
She treats the full spectrum of pediatric and adult ear, nose and throat disorders. She has special interests in pediatric otolaryngology, thyroid and parathyroid disease, chronic sinusitis, and nasal airway obstruction.
Dr. Hejtmanek is a native of Adams, Nebraska and enjoys spending time with friends and family. She enjoys running, cooking and outdoor activities.