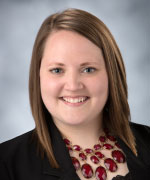 Erin received her Doctor of Audiology (Au.D.) degree in 2013 from the University of Nebraska-Lincoln. She completed her undergraduate degree at the University of South Dakota receiving a Bachelor of Arts in Communication Disorders and Sciences in 2009. Erin completed her externship at Topeka Ear, Nose, and Throat in Topeka, Kansas. During her externship, she worked with pediatric and adult patients providing a variety of hearing healthcare services. She particularly enjoys completing audiologic and vestibular evaluations, as well as providing hearing aid services.
Erin has been a licensed audiologist in Nebraska since 2013 and joined ENT Specialties, P.C. in the spring of 2014. Erin is a member of the Nebraska Speech-Language-Hearing Association (NSLHA) and a Fellow of the American Academy of Audiology (F-AAA). She also carries the Certificate of Clinical Competence in Audiology (CCC-A), awarded by the American Speech-Language-Hearing Association (ASHA).
Outside of work, Erin enjoys spending time outside on the farm. She also enjoys watching movies, reading books, and visiting her family in South Dakota.