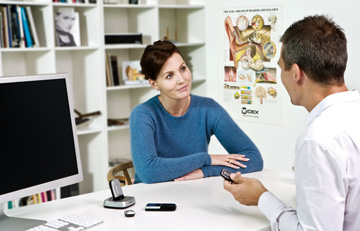 When you walk into our clinic, please check in with our friendly front desk staff. If this is your first time at ENT Specialties, you will be asked to complete some paperwork. You can save some time and speed up the process by completing this paperwork at home prior to your visit by visiting the Patient Forms page. If you are visiting specifically regarding hearing aids, we have a separate check-in window to the right.

When your Audiologist recommends hearing aids, selection is only the beginning of the process. Equally important is the fitting, which involves programming your hearing aids and making adjustments to provide the correct levels of amplification for your particular hearing loss. Before you ever put on hearing aids, you'll receive counseling to prepare you for this change in your lifestyle. While hearing aids will undoubtedly improve your communication abilities, it is important to understand they are not a cure for hearing loss, and do have certain limitations. Learning what to expect beforehand will help you achieve the maximum benefit from your devices. Having realistic expectations for the hearing devices is crucial for long-term success.
What Is a Hearing Aid Consultation?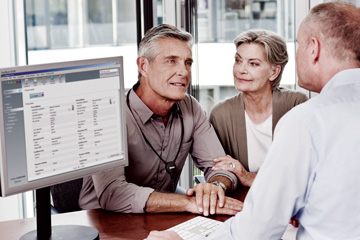 Your Audiologist will talk to you about the different options during this consultation appointment. As part of the appointment, you will have the opportunity to try out the newest hearing aid technology in our office, so it is a good idea to bring a friend or loved one to this appointment in order to have a familiar voice to listen to with the hearing aids on. Next, we will discuss your expectations, talk about hearing aid technologies, and go over pricing.
How Are Hearing Aids Fitted?
Your Audiologist at ENT Specialties will check the physical fit to make sure they are comfortable and fit well in your ears. They will then be programmed and adjusted based on your hearing loss and lifestyle needs. The hearing aids will be placed in your ears and turned on, allowing your Audiologist to measure the volume levels to ensure that you are hearing the full range of sounds properly.

Your Audiologist will then discuss care and maintenance of your hearing aids. You will learn how to use them correctly and make adjustments for different hearing environments, insert and remove them, change the batteries and clean and care for them properly. You will also learn tips and strategies for better communication.
What Kind of Follow-Up Care Can I Expect?
A follow-up visit will be scheduled at two to three weeks after your initial fitting. During this appointment, your Audiologist will fine-tune and adjust your hearing aids as needed and answer any questions you may have. It may take a while to adjust your hearing aids to their maximum effectiveness, so additional follow-up appointments may be needed.