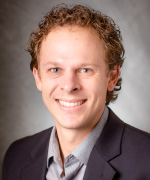 Dr. Ben Nelson joined ENT Specialties in 2016. He completed his Otolaryngology residency at Indiana University School of Medicine, where he received a full breadth of ENT subspecialty exposure. He received his Bachelors of Science degree with highest distinction from Nebraska Wesleyan University in Biology followed by medical degree with high distinction at the University of Nebraska Medical Center-Omaha. Dr. Nelson is board certified in Otolaryngology-Head and Neck Surgery.
Dr. Nelson has achieved numerous accolades over his years in training.  He received multiple scholarships including the University of Nebraska Regents Scholarship. He was elected to the Alpha Omega Alpha honors society. As the co-president of the Nebraska Medical Center student chapter of the American Medical Association, he advocated for patients/physicians with numerous trips to Washington DC. During residency, he won the Manion-Lingeman Temporal Bone competition. He also received awards for his research on predicting perioperative complications.
He is a member of the American Academy of Otolaryngology – Head and Neck Surgery, American Medical Association, Nebraska Medical Association and Lancaster County Medical Society.
Dr. Nelson treats the full spectrum of otolaryngology disorders. His special interest lie within treating pediatric otolaryngology, chronic sinus disease, nasal obstruction, allergy, hearing disorders, skin cancer and thyroid/parathyroid disease.
Dr. Nelson is a Lincoln native and enjoys spending time with his family and friends. His personal interests include running, soccer, Husker sports, traveling, cooking and homebrewing.