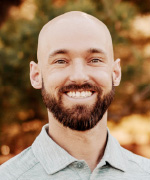 Jameson received his Doctorate in Audiology (Au.D.) in 2015 from the University of Nebraska-Lincoln. He also obtained his Bachelor of Arts (2011) and Masters in Science (2014) degrees in Speech Language Pathology and Audiology from the University of Nebraska-Lincoln. While in the Au.D. program, Jameson gained experience in a variety of different clinical settings including: ENT offices, educational, military and VA clinics. He completed his fourth-year externship at the Paparella Ear, Head, and Neck Institute in Minneapolis, Minnesota in May of 2015. While in Minnesota, he completed vestibular, electrophysiologic, and audiologic testing batteries on patients of all ages, as well as provided hearing aid services to adults. His clinical interests include: hearing aids, tinnitus, vestibular issues, noise-induced hearing loss, and hearing conservation.
Jameson has been a licensed Audiologist since moving back to Nebraska and joining ENT Specialties, P.C. in the summer of 2015. Jameson is a Fellow of the American Academy of Audiology (F-AAA) and has his Certificate of Clinical Competence in Audiology (CCC-A), awarded by the American Speech-Language-Hearing Association (ASHA).
In his free time, Jameson enjoys spending time with his wife and three young children. His personal interests include running, tennis, baseball, home improvement projects, and anything that he can do outdoors.