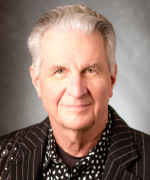 Dr. H. Russell Semm is board certified in Otolaryngology-Head and Neck Surgery, and has been practicing medicine in the Lincoln area since 1982. He received a baccalaureate degree in Chemistry and Math followed by a master's degree in English both from the University of Nebraska, Lincoln. Dr. Semm completed his medical training at the University Of Nebraska College Of Medicine in Omaha. His residency training was done at the University of Oregon Health Science Center, Ohio State University, and Columbus Children's Hospital.
Dr. Semm has a notable list of both academic and professional experiences and achievements that he has attained. One of his academic achievements includes being a member of the Phi Eta Sigma scholastic honor society. Dr. Semm was an instructor for the department of English at UNL, Coordinator of Biology Labs at UNL, research assistant in the department of Botany at UNL, instructor of Otolaryngology at the Ohio State University, adjunct Assistant Professor of Family Medicine, and adjunct Assistant Professor of Otolaryngology, Head and Neck Surgery. Dr. Semm has also assisted in editing the textbook of Otolaryngology by DeWeese and Saunders early on in his practice.
He is a member of the American Academy of Otolaryngology-Head and Neck Surgery, Nebraska Academy of Otolaryngology-Head and Neck Surgery, Nebraska Medical Association, Lancaster County Medical Association, American College of Physician Executives, Wilderness Medical Society, a Fellow of the American Rhinologic Society and sits on the American Rhinologic Society Political Action Committee.
Over his career, Dr. Semm has also assumed a variety of leadership positions within the medical community: Founder, President and Chairman of the Board of the Nebraska Independent Physician's Association, Founder and Chairman of the Board of the Unity Choice Health Plans of Nebraska, has served as Chairman of the Department of Otolaryngology of Bryan Health and St. Elizabeth's Regional Medical Center, Chairman of Outpatient Surgery for Bryan Health, Chairman of the Grasslands Foundation and Conservative Alliance of the Great Plains, and has been a past board member of the YMCA.
H. Russell Semm, M.D., founded ENT Specialties, P.C. in 1991 and has brought his clinical expertise to its patients ever since. He treats all otolaryngologic conditions, but does have a special interest in sinus surgery and pediatric ear, nose and throat problems. Outside the office and operating room, he enjoys canoeing, trekking, travel, scuba diving, rafting, reading and gardening.